PERSATUAN RUGBY UNION INDONESIA or Indonesian Rugby was formed in May 2004 by seven friends (Andrew Nugroho, Stephen Barber, Paul Quaglia, Lawrence Jorgensen, Andrew Vater, Brian Millen, Deano Herewini) who foresaw the purpose of developing the sport and culture of Rugby Union in Indonesia. Previously PRUI was known as Indonesian Development Rugby (IDR) from 2004-2005, Indonesian Rugby Football Union (IRFU) 2005-2010, before it became PRUI until now.
Prior to the formation of PRUI, Rugby had been played in Indonesia as a social sport for more than 40 years (mainly by expatriates) and historic records show that Dutch and British nationals also played rugby during the early part of the 20th century.
PRUI is known as an organisation that is responsible for the management and development of Rugby Union in Indonesia. PRUI is legally registered as a sporting association in accordance with the Law governing the Republic of Indonesia.
PRUI was granted Associate Membership of the Asia Rugby in September 2004 and gained Full Membership in November 2005 following progress made by the Union to develop Rugby. PRUI gained Associate Membership of World Rugby in May 2008, and recognised as a Full Member of the IRB, now known as World Rugby in November 2013.
On a local scene PRUI was recognised by Komite Olahraga Nasional Indonesia (KONI) as being the national sporting organisation responsible for the development and management of Rugby in Indonesia in August 2013, under the Presidency of Air Marshall (ret.) Pieter Wattimena. PRUI become a member of Komite Olympiade Indonesia (KOI) in February 2015.
With the number of new clubs and provincial unions tripling over the past year along with the exponential number of players, PRUI participated for the first time in the National Games (PON) exhibition in 2016. As a result of it, Rugby 7s will be officially played at PON 2020.
Under new PRUI President Didik Mukrianto SH, MH, PRUI also participated in SEA Games Kuala Lumpur in 2017 & successfully hosted Rugby 7s as an official sport at the 2018 Asian Games in Jakarta & Palembang. With regular coaching clinics for coaches, MOs and other supporting resources, PRUI looks forward to a continued increase in players, games and tournaments in the future.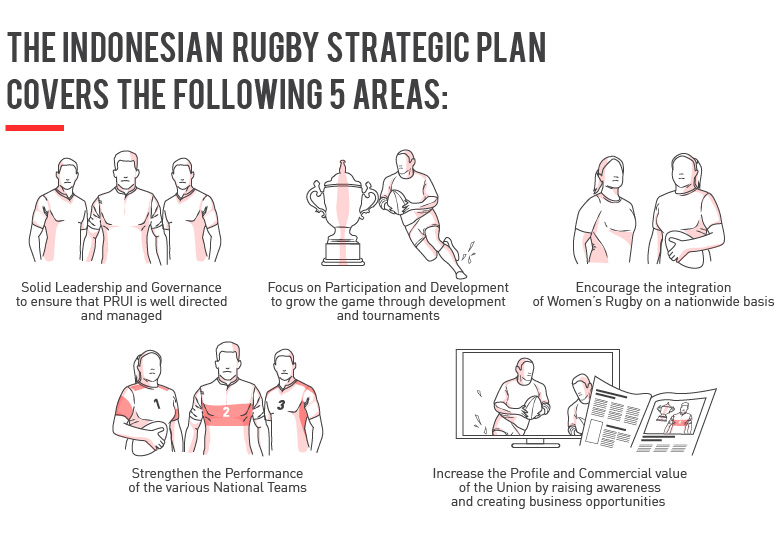 PRUI Board of Managerial 2017 – 2021
Council of Commissioners
Chief of the Council of Commissioners: Dr. Djoko Udjianto
Members of the Council of Commissioners:
Marsda TNI (Purn) Pietter Wattimena S.Ip, MM.,MH.
Mayjen TNI (Purn) Amiruddin Usman S.Ip.
Teuku Ryefki Harsya
Bambang Rus Effendi
Rudolfus YB Kadarisman
Anton Sukartono Suratto
Fetty Abidin
Syahrir Nawir
Husin Wiwanto
Muslim, SHI., MM.
Board Members
Chairman: Didik Mukrianto, SH., MH.
Vice Chairman I: Yudha Ramon.
Vice Chairman II: Agus Djamhoer.
Vice Chairman III: Atlantica Ruyu Vau.
Vice Chairman IV: Fikri Al-Azhar.
Vice Chairman V: Iswahyudi
Secretary General: HRG Radityo Gambiro.
Vice Secretary General I: Nurcahyo Anggoro Jati
Vice Secretary General II: Renanda Bachtar
Vice Secretary General III: M. Reza Eka Pahlevi
Vice Secretary General IV: Zuliansyah Andy Dharma
Vice Secretary General V: Deden Sirajuddin
Treasurer: Wahyu Sanjaya, SE., MM
Deputy Treasurer I: Refina Herlanda
Deputy Treasurer II: Daniel Rahadian Nugroho.
Deputy Treasurer III: Engel Sahanggamu
Deputy Treasurer IV: Luqman Saefuddin
Deputy Treasurer V: Faisal Anwar
Organizational Committee
Head: Hengki Sawaki
Secretary: M. Fathul Arif
Members:
Bahrul Arifudin
Novan Danurwindo
Hilda Mahening
Roy Adiguna
Inter-Institutional Relations Committee
Head: M.Burhanuddin, SH., MH
Secretary: Vita Maulidya Kurniasari
Members:
Kurnia Basuki
Fraidahansya
Nur Muhammad Ghufron
Ari Bahari
Public Relations Committee
Head: Yusuf Baginda
Secretary: Coky Anderson Siagian
Members:
Margaretta Putri
Erras Hermawan
Johan Aristya Lesmana
Jay Singgih
Competition Committee
Head: Adji Ekawarman Hassan
Secretary: M.Husni Thamrin
Members:
M.Pramukti
Dicky Achmad
Bukhari Hasan Basri
Affie
Firnandez Patipeiluhu
International Relations Committee
Head: Iskandarsyah R Datau.
Secretary: Wahyu Raharjo
Members:
Didit R. Wijaya
Firliana Rustianti
Oktoriyandi
Steven Haurissa
Wendi Agung Riskianto
Marketing, IT and Sponsorship Committee
Head: Muhammad bayu Radityo
Secretary: Balada Amor
Members:
Rina Fitri
Muhammad Nurmilal
M.Taufan
Novi Dianty
Thomas Bahar
Women's Rugby Committee
Head: Karina Soerjanata Mihardja
Secretary: Indah Arfiani
Members:
Novi Raudatul Jannah
Chicilia soway
Referees Committee
Head: David Afriansyah
Secretary: Rizal Arsyad
Members:
Luke Nugroho
Yuddy Prabowo
Anugerah Saputra
Grassroots Development Committee
Ketua: Iwan Rinaldo Syarief
Secretary: Widiyanto Kurniawan
Members:

Misbachul Munir
Affriyani Lia Damayanti
John Petrus Marpaung
Law Committee
Ketua: Heru Prajondika
Secretary: Maxmilian Husin
Members:
Reza Oktavian
Fandy Sugiharto
Research, Development and Strategic Studies Committee
Ketua: Mahfudin
Secretary: Firmansyah Dlis
Members:
Yasril
Student and Youth Development Committee
Ketua: Akmal B. Yulianto
Secretary: M.Khoiri
Members:
Toha Maksum AS
Rezqi Muhammad
Muhammad MasrurFuadi
Haris Abidin
Khengis Aji KS
Rawi Kawista Anggono
Rendy Yusuf
Siti Bainingrum
Calvin Deda
George Ofide
Competition Committee and Athlete Development

Ketua: Dicky Setyadharma Natapradja
Secretary: Alfius Imerson Nicolaas Joku
Members:
Galih Suroso
Fadilah Oki Kurniawan
Achmad Khadafi
Agus Tri Waluyo
Medical Nutrition and Health Committee
Ketua: Jess Djamhoer
Secretary: dr. Ilham Ramadhan
Members:
Siti Yayah Sobariyah
dr. Ardiansyah Bahar
Performance Development Committee
Ketua: Alton Annar
Secretary: George Deda
Members:
Bahrul Arifudin
Fani Aditya
Arry Rizki
Education Committee
Ketua: Albert Wolter Aridan Tangkudung
Secretary: Yohanes Musi Uran Nema
Members:
Ardiansyah Ahmad Suyuti
Mochamad Yusuf Ardianto