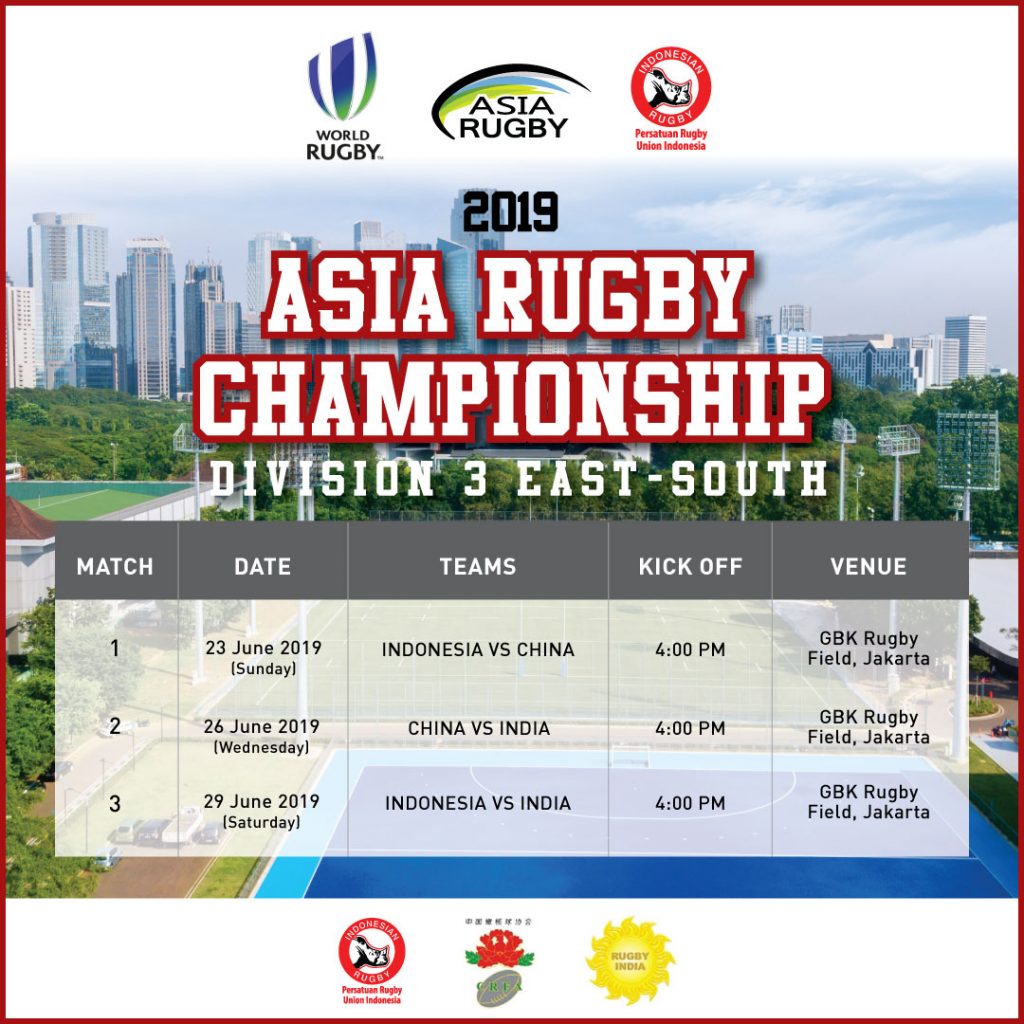 For the fourth time ever, Indonesia will host and participate in the Asian Rugby Championship Division 3 East-South Tournament to be held at the Gelora Bung Karno Rugby Field from the 23rd to the 29th of June 2019.
Since first participating in its first Asian XVs tournament in 2006, Indonesia has played 22 official matches and currently holds a record of 11 wins and 11 losses with their biggest win being a 55-3 victory against Cambodia in the Asian Rugby Championship in 2008.
The Rhinos have been selecting players for some time, led by former Indonesian captain Bobby Orlando who is now the National Head Coach. With Assistant Coach Subaru Higa, 26 players have been chosen along with four players in the wider training squad.
The team is a mix of veteran players such as Daniel Nugroho, Maykel Kawengian and Scott Atkinson, along with some fresh faces who are making their debut such as Andre Gumilang, Kareem Pelo and Todd Faulkes- Roberts. The wider training squad consists of Yogyakarta players Nino and Dido, along with Agus from Aceh and sera from Banten Province.
The Rhinos will start their Training Camp on the 19th of June in Jakarta before their first match against China on Sunday the 23rd of June. China will then play India on Wednesday the 26th of June before the final game of the tournament between Indonesia and India on Sunday the 29th of June. A notice to all that PRUI will also be conducting a "Get Into Rugby Festival" prior to the Indonesia-India match which will be attended by junior participants from Jakarta and the surrounding provinces.
"We hope to do well in front of the home crowd," says Rhino manager Yudha Ramon. "It is wonderful that we can have this tournament at the same field that was used in the recent Jakarta Asian Games and we will also be hosting the Asian Rugby Series Trophy and Asian Rugby Women's Series Trophy here in August before being host to the Asian Rugby AGM later in the year."
Let's wish the Rhinos all the best and come down and support them in numbers on this momentous competition!
The full Rhinos squad is as follows:
1. AGUS TRIAWAN;
2. ANDRE FIKSI GUMILANG
3. ARI YUDA PRAMONO;
4. ARIOBIMO IMAN;
5. BRILYANI AL AKBAR;
6.  DANIEL RAHADIAN NUGROHO;
7. DIAS RAHADIANSYAH;
8. GLEN PETER INDRA WILLIAMS;
9. IAN SCOTT ATKINSON;
10.KAREEM ABDUL JABBAR PELLO;
11.LAWRENCE OYAITOU;
12.LEONARDO PRAKOSO;
13.LEONE BAINIVANUA;
14.MARCO SEBASTIAN;
15.MAYKEL CARLI;
16.MIRZA HAKIM PRAHASTONO;
17.MOHAMAD YUSUF ARDIANTO;
18.MUHAMMAD RIFALDI;
19.NICO JOKU;
20.RAPHAEL BANGUN;
21.RICHARD HENDHARTO;
22.SEPTINUS OYAITOUW;
23.STEPHEN ALFRED FIELD;
24.TOBERI BUINEI;
25.TODD RAMADAN FOULKES ROBERTS;
26.YOHANES MUSI URAN MEMA;
Head Coach: Bobby Orlando
Assistant Coach: Subaru Higa