Rugby in Indonesia have come a long way since it was formed in 2004. We started as a foundation that promote Rugby in Indonesia, and then grow exponentially until now.
Persatuan Rugby Union Indonesia (PRUI) is a fully recognized sport association in Indonesia, we have both a Men's and Women's national team (sevens Rugby) and have been competing in Single-events and Multi-events across Asia. Such as the Southeast Asia Games (SEA Games) and Asian Games.
PRUI has been a full member of Asia Rugby and World Rugby since 2013. We take pride in competing and hosting Asia Rugby tournaments. Our latest achievments was at the Asia Rugby Sevens 2019 Trophy Competitions where we were able to place 5th overall in the Men's category and 3rd overall in the Women's competition.
Locally we are also pround to have Rugby included as a competition event, for the first time at the Garut Regency Games (PORKAB Garut – West Java) in 2019. 16 Districts (Kecamatan) competed at the Garut Regency Games. Adding encouragement and also attesting as to how Rugby is truly a people's sport in Indonesia.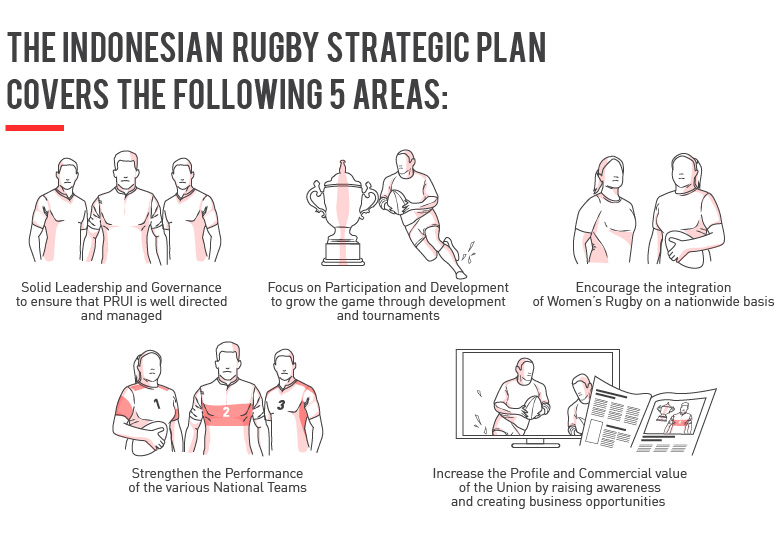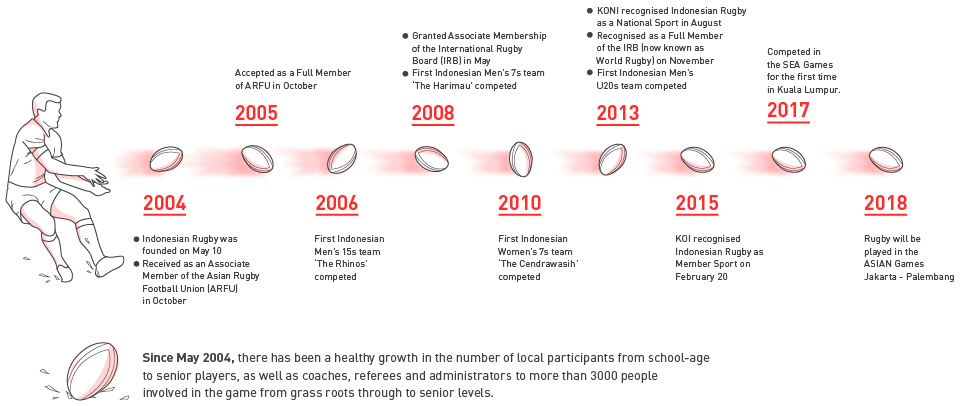 Pengurus Pusat PB PRUI 2021 – 2025
Dewan Pembina
Chairman: Dr. Dede Yusuf Macan Effendi, ME., ST., MIPol
Committee:
Teuku Rieky Harsya.
Marsda TNI (Purn) Pietter Wattimena S.Ip, MM., MH.
Mayjen TNI (Purn) Amiruddin Usman S.Ip.
Muslim.
Anton Sukartono Suratto.
Rudolfus YB Kadarisman.
Agung Budi Santoso, SH.
Pengurus Besar
Ketua Umum: Dr. Didik Mukrianto, SH., MH
Wakil Ketua I: Yudha Ramon, Sh., MH
Wakil Ketua II: Agus Djamhoer
Wakil Ketua III: Karina Soerjanatamihardja
Wakil Ketua IV: Iswahyudi
Wakil Ketua V: Budhy Setiawan
Wakil Ketua VI: Doni Akbar
Wakil Ketua VII: Reza Eka Pahlevi
Wakil Ketua VIII: Iwan Rinaldo
Sekretaris Jenderal: Fikri Al-Azhar
Wakil Sekretaris Jenderal I: Nurcahyo Anggoro Jati
Wakil Sekretaris Jenderal II: Renanda Bachtar
Wakil Sekretaris Jenderal III: Deden Sirajuddin
Wakil Sekretaris Jenderal IV: Robi Kurniawan
Wakil Sekretaris Jenderal V: Fetty Rohani Abidin
Wakil Sekretaris Jenderal VI: M. Akbar Zulvickar
Wakil Sekretaris Jenderal VII: Muhammad Kamil, SEI
Wakil Sekretaris Jenderal VIII: Zuliansyah Andi Dharma
Bendahara Umum: Wahyu Sanjaya, SE., MM
Wakil Bendahara Umum I: Engel Sahanggamu
Wakil Bendahara Umum II: Refina Herlanda
Wakil Bendahara Umum III: Hanik Rubaidah
Wakil Bendahara Umum IV: M. Iqbal Suyudi
Wakil Bendahara Umum V: Salim Fahmi
Wakil Bendahara Umum VI: Nahril Kiram, SH
Wakil Bendahara Umum VII: Rusminiati, SH., MKn
Wakil Bendahara Umum VIII: Ryzki Aufa Helmi R
Bidang Organisasi & Keanggotaan
Ketua: M. Ulung Windupati Bisrie, ST., MM.
Sekretaris: Wahyu Sitompul
Anggota:
Yusuf Baginda

Komaruddin

Gumirlang
Bidang Pengembangan dan Pemassalan
Ketua: Wira Ditta Lokantara
Sekretaris: Hambali
Anggota:
Marini Meadows
Imron Nugroho Saputro
Bidang Pembinaan Prestasi
Ketua: Alton Annar Sampetoding
Sekretaris: Yohanes Musi Uran Nema
Anggota:

David Afriansyah

Yuda Pramono

Nanda Oloan Siregar

Nadya Silvy Khoirunnisa
Bidang Rugby Wanita
Ketua: Nur Faizah
Sekretaris: Dedeh Erawati
Anggota:

Ester Sitompul

Sara Aviory
Fanny Givllia Garasati
Bidang Rugby Mahasiswa dan Pelajar 
Ketua: Salahuddin Alam
Sekretaris: Ryan Syafruddin
Anggota:

Dr. I Wayan Artanayasa, S.Pd., M.Pd

Buldan Muhammad Abdurrohman

Fransiscus Sinaga
Bidang Pendidikan dan Kepelatihan
Ketua: Ardiansyah Ahmad Suyuti
Sekretaris: Agus Budiono
Anggota:

Kareem Pello

Christopher Aditya
Bidang Kompetisi dan Event
Ketua: Daniel Rahadian Nugroho
Sekretaris: Akmal Nasser
Anggota:

Bahrul Arifudin

Andika Yudistira Pratama

Philips Arobaya
Bidang Perwasitan
Ketua: Luke Nugroho
Sekretaris: Ridwan Afif
Anggota:

Qonidah Senja

Wahyu Angga
Bidang Medis dan Gizi 
Ketua: dr. Arinta Dewi Murharyo
Sekretaris: Timothy Satyaabieza
Anggota:

dr. Iman Widya Aminata

dr. Adisa Yusuf Reksoprodjo

dr. Hafiz Yusaryahya

Gabriella Reka Dewi

Rus Dwi Jatmiko

Jess Djamhoer

Chrisnar Danuja R
Bidang Marketing dan Sponsorship
Ketua: Gusman Yahya
Sekretaris: Barly T
Anggota:

Vita Maulidya Kurniasari

Rini Hewitt

Mahfut Khanafi
Bidang Hukum
Ketua: Heru Pradijonrika, SH., MH
Sekretaris: Khengis Aji KS
Anggota:

M. Rawi Kawista Anggono
Bidang Media dan Hubungan Masyarakat 
Ketua: Coky Anderson Siagian
Sekretaris: Firzie Idris
Anggota:

Toha Maksum

Endang Apriliana
Bidang Hubungan Antar Lembaga
Ketua: Ronald Sirait
Sekretaris: Richard Achmad Supriyanto
Anggota:

Adrian Mirino

Dewi Ramadhanti Agustina
Margaretta Rozetta SH., MH
Bidang Penelitian dan Pengembangan 
Ketua: Adji Ekawarman Hassan
Sekretaris: Rendy Yusuf
Anggota:

Mohammad Yacob