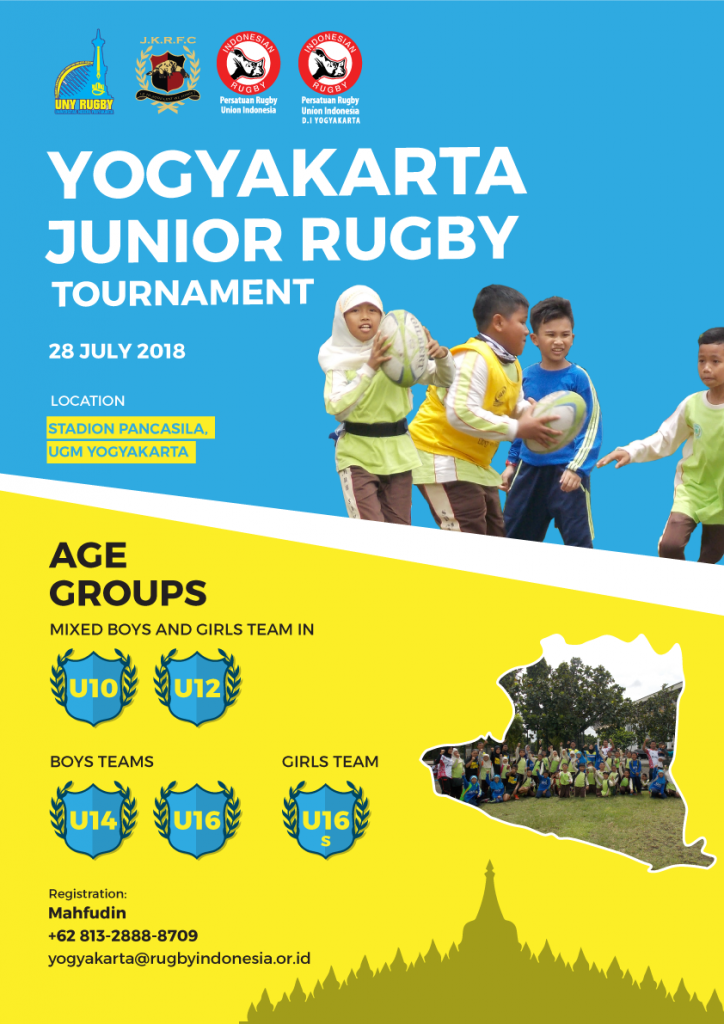 About Yogyakarta Junior Rugby Tournament
Organised and hosted by University of Yogyakarta Rugby and supported by the Jakarta Komodos Junior Rugby Club, The Yogyakarta Junior Rugby Tournament will be considered as a major breakthrough in the domestic development of junior Rugby Indonesia and is expected to be the first step stone of the national junior rugby competition. The tournament will be attended by rugby teams from all regions in Indonesia such as Jakarta, West Java, Central Java, East Java, Bali and Papua.
The teams fielded included: mixed boys and girls teams in U8, U10 and U12 age groups; boys U14 and U16 teams; and girls U16s teams.
The tournament had a huge impact on the face of junior rugby in Indonesia. Four clubs were formed due to the opportunity of playing in an in-country tournament that was affordable for all. All teams from these clubs displayed promising performances.
In 2018, it is expected the Yogyakarta Junior Rugby Tournament will grow further to include more teams from all rugby region in Indonesia.
Tournament Schedule
Location:
Stadion Pancasila, UGM Yogyakarta
30 mins from Adisutjipto International Airport 10 mins from Tugu Train Station
Date: 28 July 2018
Contact
Mahfudin
+62 813 2888 8709
yogyakarta@rugbyindonesia.or.id