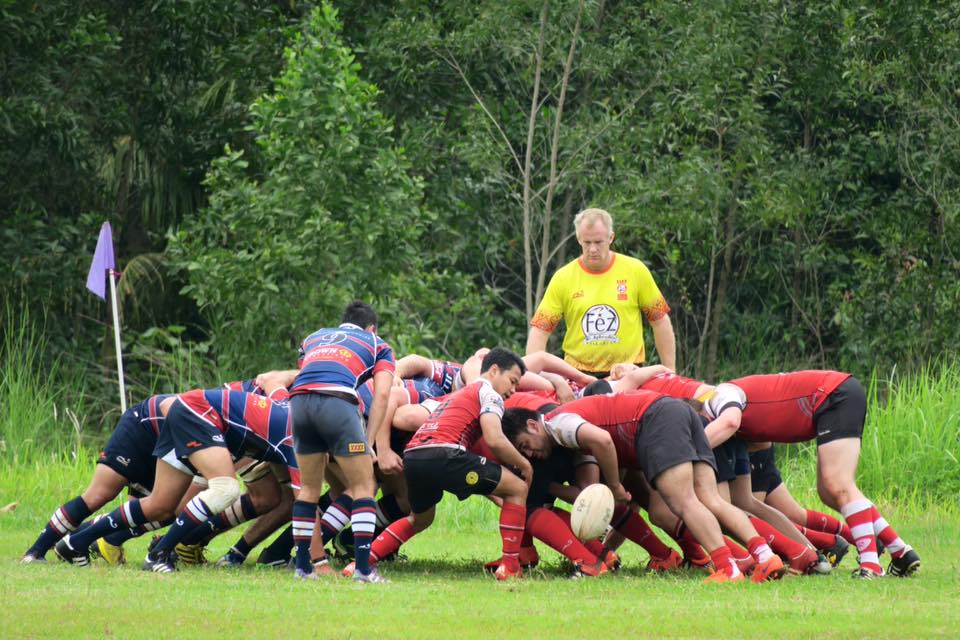 Jakarta Rugby XV series 2016 (read: Jakarta Rugby Fifteen Series) has entered the second round, with twelve games played by six teams participating this year. This 15s format was first played by rugby clubs in Jakarta area only, but then it continues to develop and now there are teams from West Java, Banten, and Bali playing in 15s format as well. Therefore, Jakarta Rugby XV series is now established as the West Indonesia Region tournament. Whereas the other rugby clubs from Central Region of Indonesia will be playing in a similar tournament in their region held in Bali this year.
There are 6 teams joining Jakarta Rugby XV Series: Jakarta Komodo, Jakarta Banteng, JJRG Samurai, Bandung Rams, UNJ, and Barbarians. Jakarta Komodos was the defending champion of the last year's tournament. We're sure that the other clubs will try to seize the championship title from the Komodos, which is based in Jagorawi Golf Club. Jagorawi rugby field itself has became the official court that holds most of the Jakarta Rugby XV Series matches this year, only one round will be played in Bandung.
The first round was held in February 13, 2016, and the opening match was played by the two finalists from last year, Jakarta Komodos vs Jakarta Banteng. It was a spectacular performance from both teams; however, Jakarta Banteng should admit Jakarta Komodos' superiority with a final score of 40-21 for the Komodos. The second match was between UNJ vs Barbarians, which was won by UNJ with a full point, as the Barbarians didn't have enough players to play. The last match of the first round was between JJRG vs Bandung Rams, which was won by JJRG with a score of 68-0.
The second round was held in February 20, 2016, also displaying three matches. UNJ, which was just promoted to the 1st division of Jakarta Rugby XV from the 2nd division last year, displayed an aggressive performance against the senior players of Jakarta Komodos. The UNJ youngsters have given their best despite their lost, with a final score of 49-3. The second match was between Jakarta Banteng and Bandung Rams. Filled with young players this year, Rams finally lost with a score of 127-0. The last match of the second round was JJRG vs Barbarians. Bali Chillis came all the way from Bali to Jakarta to represent the Barbarians for the match. JJRG finally won the match with a score of 59-12.
Yudha Ramon, the 1st deputy chairman of PRUI welcomed Bali Chillis for participating in the tournament this year. "PRUI was very happy because we can have an additional team from Bali, the Bali Chillis this year. We highly appreciate Kurt Lovell and Bali Chillis for their effort to bring the team to Jakarta in order to participate in this tournament."
He also added "This tournament was purposely held as a preparation and selection for the Indonesia's national team players, which will be competing at the 3rd Division of the Asian Rugby Championship in Thailand later this year."
With a good and sustainable competition, we expect that Indonesia rugby's achievement will only continue to move forward.
MOVE FORWARD INDONESIA RUGBY!! AWESOME!!
#RugbyRasaIndonesia