With the intensity of the Six Nations heightening in the Northern Hemisphere and Super Rugby just around the corner in the South, Indonesia's own annual Rugby XVs competition kicked off last weekend with the start of the Jakarta Rugby XVs Series 2018 at The Lodge at Jagorawi Rugby.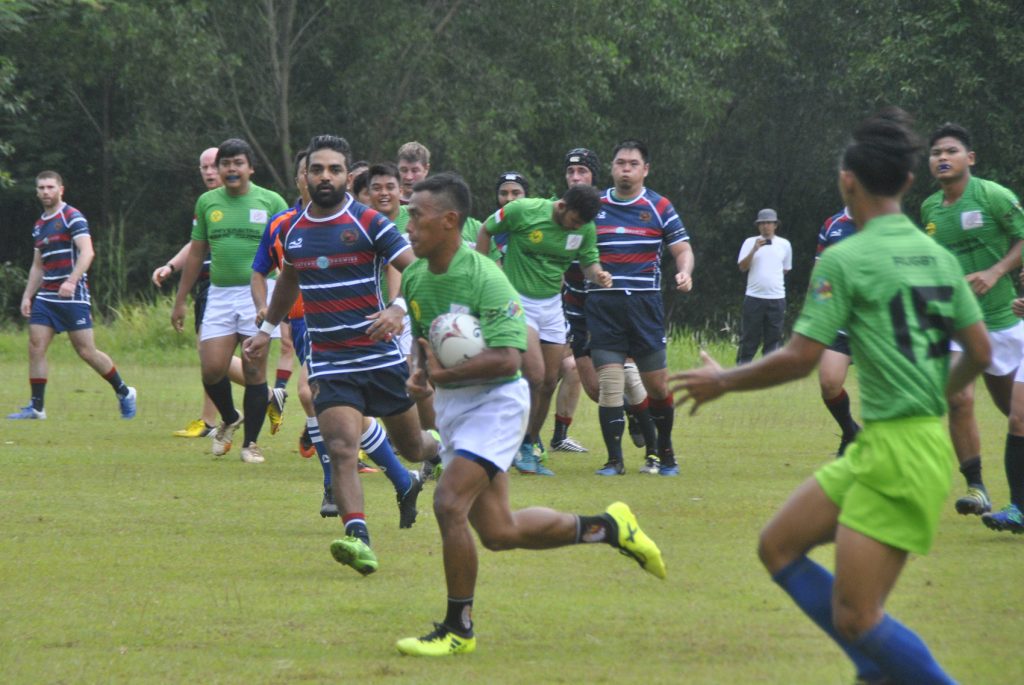 Last year's Champions, Jakarta Komodo Rugby Club took on Runners-Up UNJ Rugby Club in the season starter, with Komodo packing some new ammunition in both their forwards and backs and UNJ playing without seven of their regular players who are at the National Rugby Sevens Training Camp in Yogyakarta. Komodo scrumhalf Gayan opened the scoring in the third minute followed two minutes later by Komodo number 12 Dominic Wong in what would be the first of his hat-trick for the day. Some lackluster kicking from new recruit Justin Field prevented maximum points with only four conversions from a massive total of ten tries but the lanky fullback redeemed himself somewhat, crossing the line for two tries of his own.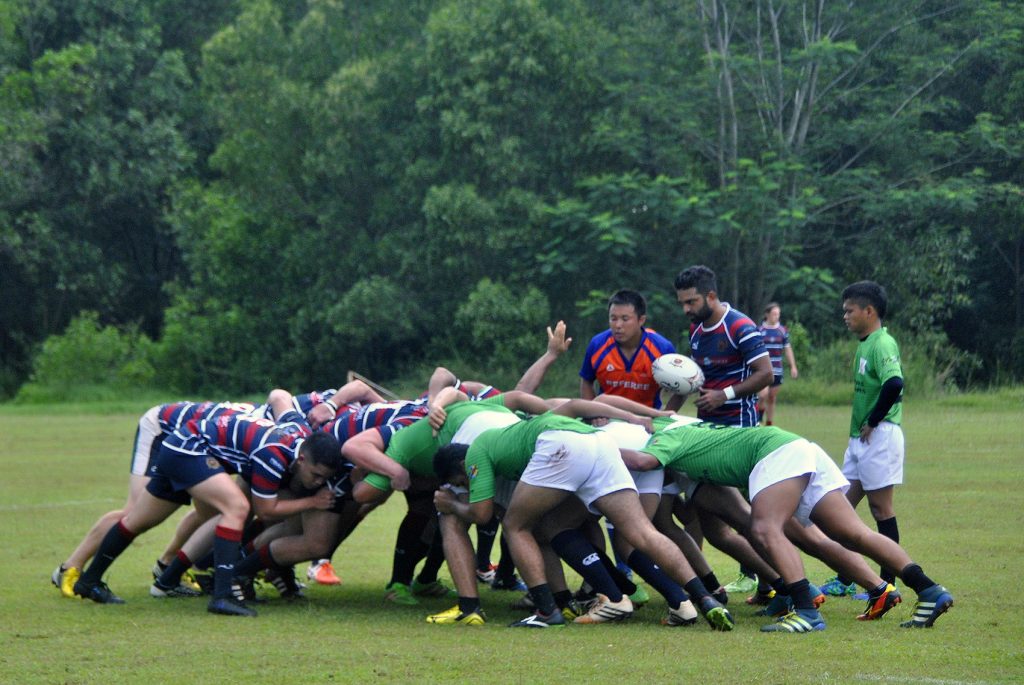 UNJ Rugby scored their first points at the 60 th minute with a penalty kick from David Afriansyah and their first try for the season came in the 68 th minute with prop Moh. Yusuf scrambling over the try line, managing to finally break a solid Komodo defense. With the majority of scrums going to the younger UNJ pack, they were left wanting in the backs with the wet conditions preventing the faster ball. Komodo experience and tenacity prevailed in the end as they took the win 53-8.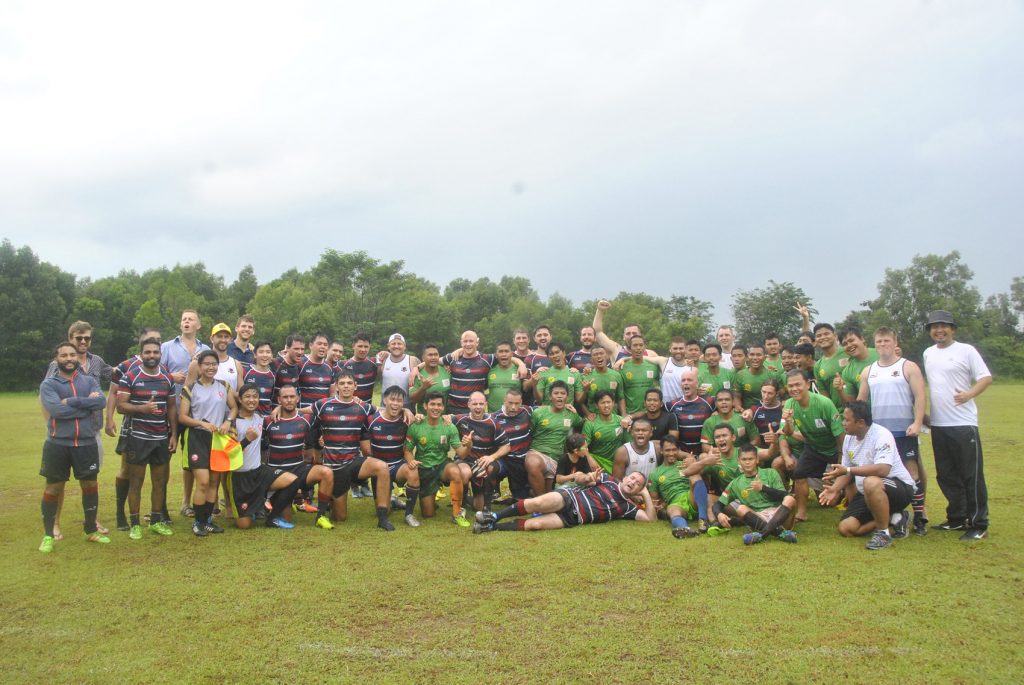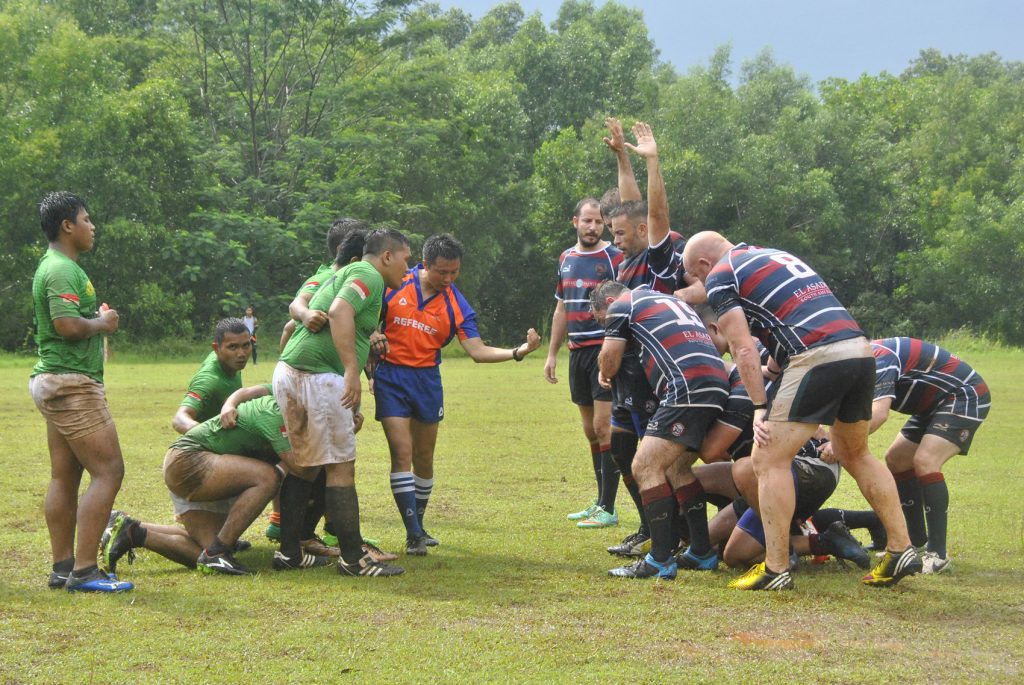 Long-time rivals JJRG and Banteng played the second match of the day as the weather played tricks going from sleeting rain to searing hot and back again throughout the match. JJRG opened the scoring in the sixth minute with some classic forwards ruck and maul, pounding away at a resilient Banteng defense just yards from the try line.
With field conditions preventing any side dominating scrums, it was a game for those who took the most chances and JJRG experience and great ball retention looked like overcoming the weary Banteng boys throughout most of the first half. Some very good clean breaks when they managed to hang on to the slippery ball however saw Banteng lead 12-17 at the half.
Banteng scored two more tries in the first twenty minutes of the second half before gambling on some kicking tactics and some old-school mauling, JJRG crossed the line to score what would be their final try for the day.
A runaway try from Scott Atkinson which would be his second for the game along with some gutsy crashes from Nate and Leo led to three more tries for Banteng who closed the game winners 17-48. The next round of the Jakarta Rugby XVs Series will be held on Saturday 24 th of February with UNJ vs Banteng and Komodo vs JJRG.
Photos by: Tika Prastika