The 14 nations consisting of 12 men's and eight women's teams competing in the Rugby 7s competition of the Asian Games finally came to a close with gold, silver and bronze winners determined through three days of grueling competition at the new Rugby Field in GBK Senayan, Jakarta.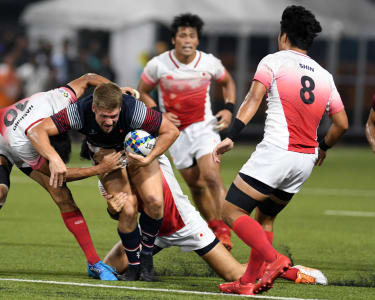 With enthusiastic crowds at almost all events, the Rugby 7s competition was also flooded by overseas and local fans, many watching their Rugby games for the first time ever. The best players in Asia did not disappoint the crowd, with dashing and darting world-class Rugby that impressed all in attendance.
Medal favourites in both the men's and women's competition had to be Japan and they showed the spectators why, with their structure, agility, grace, speed and overall Rugby skills.
Japan men's players Dai Ozawa & Kameli Soejima held everyone's attention every time they had the ball with their graceful display and powerful ability to break the defensive line. Meanwhile in the Japan women's team, Fumiko Otake, Yume Okuroda and team captain Chiharu Nakamura played consistent, skillful Rugby in almost every game.
That being said, other teams also shone at the competition, including the Kazakhstan women's team standout Vlada Odnoletok who is the youngest competitor at only 17 years old, the Si Lanka men's team that only lost their semifinal match 12-10 versus Japan, and of course the Indonesian national teams that showed remarkable improvement in their Rugby.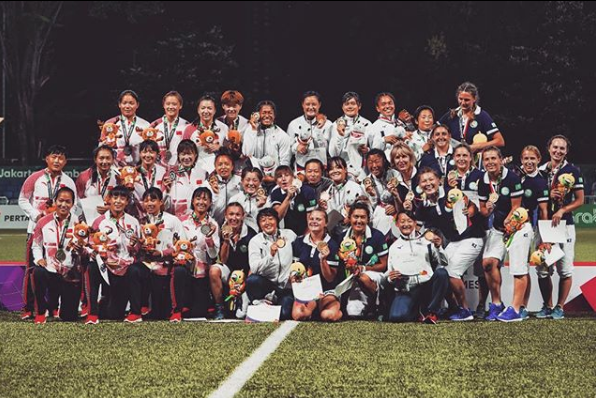 Indri Katerina Lahu made history when she scored her team's first points at the Games through a try against China and the men's team also chalked down a win over the UAE 48-5 with tries to Lawrence Oiyaitou, Andika Pratama and Yusuf Satrio Nugroho.
The Kazakhstan women's team defeated Thailand to take the Bronze medal while Japan edged out China 7-5 to take Gold.
In the men's competition, tries from Salom Yiu and Alessandro Nardoni of Hong Kong saw them take the Gold medal, beating Japan 14-0. Korea defeated Sri Lanka 36-14 to take Bronze.