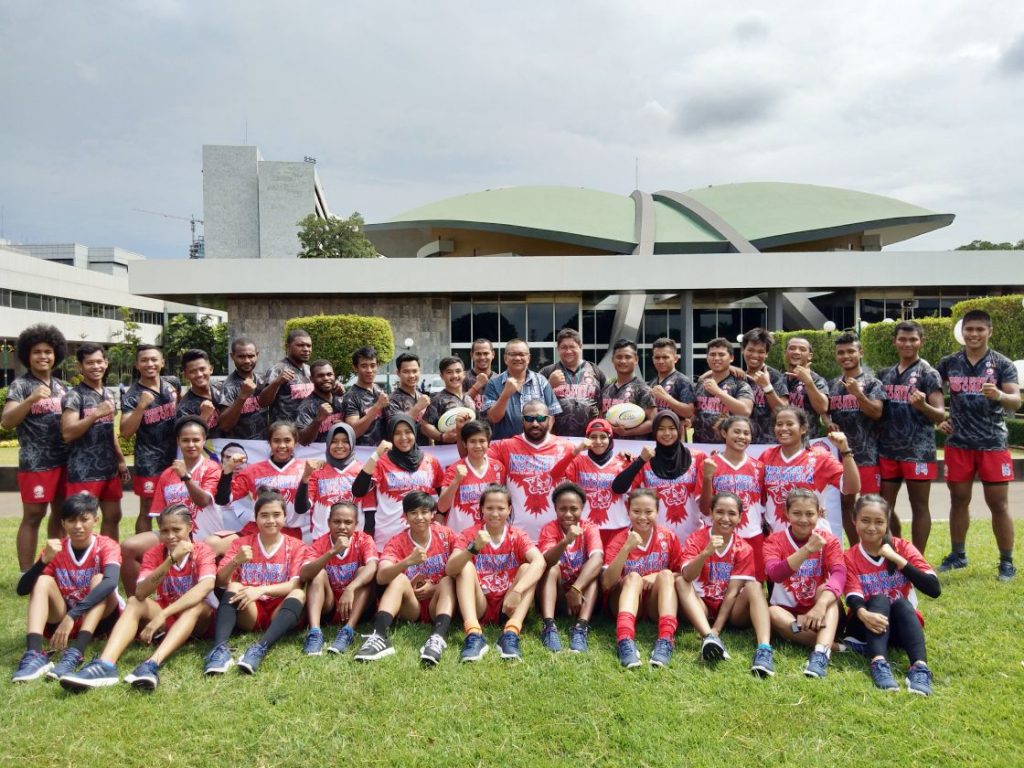 The last time Indonesia hosted the Asian Games in 1962, possibly only a handful – if any – Indonesians even knew there was such a sport as Rugby, let alone play it. In August 2018, Indonesia will again host the Asian Games in Jakarta and Palembang and this time Rugby will not only be competed but Indonesia will send both Men's and Women's teams to participate.
Although Rugby has been on the social sporting scene since the 1980's, with the arrival of expatriates from Great Britain, Australia, New Zealand and Europe, it was only in the early to mid-2000's did an organized effort take place to consolidate all the various Rugby activities in Indonesia. Through the Indonesian Development Rugby movement, Rugby slowly gained momentum and with the formation of the Indonesian Rugby Football Union (now Persatuan Rugby Union Indonesia), Rugby has been expanding and gaining ground in the country where everyone seems to play only badminton or soccer.
When it was formally announced that Indonesia would be hosting the 18th Asian Games, Indonesian Rugby fans everywhere hoped that despite the very public budget cuts Rugby would still be able to be competed. Fate smiled on Indonesia Rugby and along with some very assertive negotiating and lobbying from PRUI, Asia Rugby and even the Olympic Council of Asia, the Indonesian Asian Games Organizing Committee (INASGOC) eventually included Rugby Sevens in one of the 42 events to be contested.
The challenge now continues with Indonesian Rugby hoping to put on a good show in the Games ahead.
Competing against Asia's top Rugby Sevens nations, Indonesia is a David to the rest of the participants' Goliath and given the Games are only a few months away, Indonesian Rugby has been fortunate enough to receive approval and funding from the Ministry of Youth and Sports to conduct a comprehensive National Training Camp over the next seven months. Both the Men's and Women's teams have been placed under the watchful directive of Coach George Wilson from Australia with local Coach Yohanes Musi Uran Mema assisting with the Men's and Coach Nico Joku assisting the Women's team.
Players selection was conducted by Coach George Wilson during the National Rugby Sevens Championships in October of last year with 48 male and female athletes getting the call to join the National Training Camp Selections. Each squad will eventually be cut to the core 12 + 3 players and the training camp may involve training and tournaments abroad.
Stay tuned for the latest updates on the Indonesian Men's and Women's National Rugby Sevens teams and also information on how you can acquire tickets to watch 18th Asian Games Rugby in Jakarta in August 2018.